New Orleans is a place of intrigue, mysteries, good food and amazing architecture. Stepping on to the streets of New Orleans is like stepping in to a different time. Depending on the neighborhood you are in, the old architecture of the city never ceases to amaze and inspire the locals and those visiting the city. We have already highlighted the shotgun style house in our previous blog
"Delving Into The Origins of the New Orleans Shotgun Houses"
but there are so many more beautiful building types that deserve the spotlight just as much. Let's explore the Creole Cottage, American Townhouse, Creole Townhouse, Raised Center Villa and the Double Gallery House.
(Picture Above) Jean Lafitte's Blacksmith Shop
Walk to the streets of the French Quarter and chances are the majority of smaller homes you see are the
Creole Cottages
. These were primarily built between 1790-1850 and were concentrated in the original settlement of New Orleans, the French Quarter although during this time, they were the predominant style through the Gulf region. How can you tell if its a Creole Cottage? The building designs tells are the homes are single story, set at ground level with steeply pitched roof, symmetrical four-opening facade wall, set close to front property line, and made of stucco or wood exterior. Probably the most well-known creole cottage is Jean Lafitte's Blacksmith Shop, the oldest bar in New Orleans and possibly the U.S.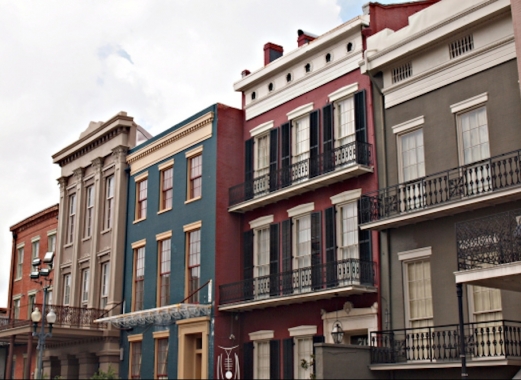 (Pictured Above) American Townhouse building style. Picture from www.neworleans.me
Another predominant building type in New Orleans is the
American Townhouse
. This style is mainly found in the Central Business District and the Lower Garden District. Built between the 1820-1850, the American Townhouse became a popular style during this time period since alot of cities were experiencing booms. Unlike the British Townhouse which denoted luxury and wealth, the American Townhouse was developed for its small footprint in order to maximize available area to build within a city. Find this style by its narrow three-story structure set near ground level, facade wall on property line, asymmetrical arrangement of facade openings, balcony on second floor. The exterior made of brick or stucco.
Stay tuned for part 2 of "Exploring the Architecture of New Orleans".